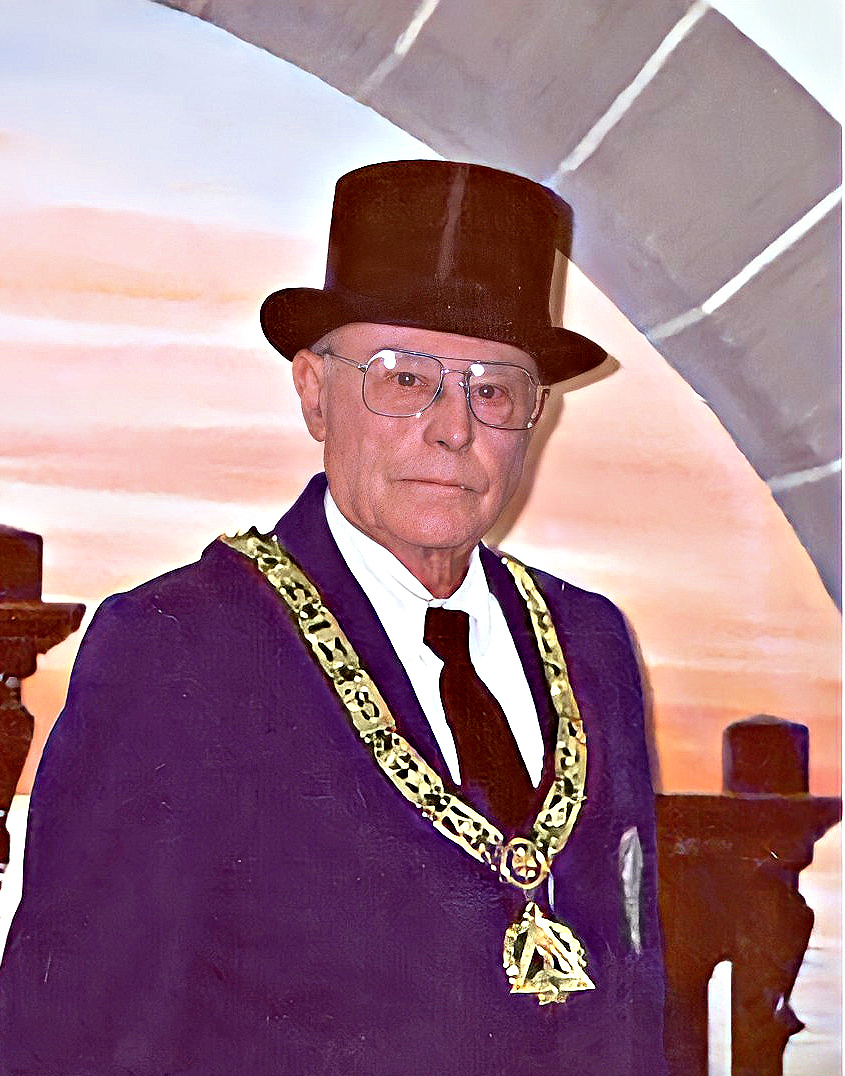 May 19, 1924 ~ March 18, 2022
Born in: Pueblo, Colorado
Resided in: Pueblo, Colorado
Service for Marion "Hatch" Hall:

MARION LEE "HATCH" HALL, a lifelong resident of Pueblo, Colorado, devoted husband, father, uncle, and friend, passed away on March 18, 2022, in Pueblo at the age of 97 years, 10 months. He is survived by his loving son and daughter-in-law, JAMES M. HALL and WINIFRED E. PARKER, of Livermore, Calif.; nieces and nephews, LINDA G. (LARSON) TOMKY of Rocky Ford, Colo., and JAMES M. LAMBERT and LINDA M. (LAMBERT) SHIVERS of Boulder Creek, Calif.; and many dear and devoted friends, all of whom will miss him very much. He was preceded by his parents, LEE W. and DOROTHY (WOOD) HALL; his half-sister, HELEN (HALL) VIGIL; his in-laws, IRA J. and L. MABLE LAMBERT; his brother- and sister-in-law, JAMES M. LAMBERT and GAIL E. (LAMBERT) LARSON; nieces and nephews, CARI JO (LARSON) KEENEY, GREGORY A. LARSON, and DAVID LAMBERT; and his beloved wife of 57 years, IRIS R. (LAMBERT) HALL (d. 11/06/2005).
Marion was born in Pueblo, but grew up in a cabin on Graneros Flats in Southern Colorado. He lost his Mother at the age of 5 and worked at many jobs in the area before enlisting in the U.S. Army Air Corps when he turned 18 in May of 1942. He served as a B-25 aircraft mechanic and engine specialist with the 12th AF, 57th BW, 310th BG, 380th BS in North Africa (Tunisia), Corsica, and Northern Italy before being honorably discharged in October of 1945. Following his discharge from the service, he worked as an automotive mechanic at W.A. Wills Ford dealership in Pueblo before beginning a 30-year career as a structural steelworker, initially with Rocky Mountain Bridge Company. He retired from the trade-in 1987 as a superintendent with H. W. Houston Construction Company and, along with a partner, incorporated H&K Railcar Salvage, from which he eventually retired to spend more time working on his hobbies and traveling with his wife.
Marion was a member of the First United Methodist Church in Pueblo and a Life Memorial Member and Past Master of Pueblo Masonic Lodge #17, and he applied the principles of his church and Masonry to every aspect of his life. He was also a Life Memorial Member of South Pueblo Royal Arch Masons #12 and a plural member of the Cripple Creek Royal Arch Masons #33. He was an Honorary Member of Silver State Lodge #95 and the Pikes Peak Royal Arch Masons #6. He was a member and past officer of Pueblo Council #6, Pueblo Commandry #3, Pikes Peak Priory #21 KYCH, and a member of the Holy Royal Arch Knight Templer Priests and the Sangre de Cristo Red Cross of Constantine. In addition, he served as Most Illustrious Grand Master of the Grand Council of Cryptic Masons of Colorado from 2004 through 2005.
He lived a long and wonderful life, with many interests and a positive outlook. He was a shining light in the lives of many, and the best Dad a boy could ever hope to have.
Viewing, from 5 to 7 p.m. Thursday and funeral service, 10:30 a.m. Friday, March 25, with the Rev. Dr. Rick Calhoun officiating and Masonic rites provided by Pueblo Lodge #17. Viewing and service will be held in the Montgomery & Steward Funeral Chapel. Military honors by the National Guard Honor Guard and the Pueblo Veterans' Ritual Team and interment at Roselawn Cemetery in Pueblo. Online condolences, www.MontgomerySteward.com
Services
Add to My Calendar
America/New_York
2022-03-24 17:00:00
2022-03-24 07:00:00
Marion Lee"Hatch"HallViewing
Viewing
1317 N. Main Street,Pueblo, CO 81003
Add to My Calendar
America/New_York
2022-03-25 10:30:00
2022-03-25 10:30:00
Marion Lee"Hatch"HallFuneral Service
Funeral Service
1317 N. Main Street,Pueblo, CO 81003
Memories Timeline
Guestbook
Sign the Guestbook, Light a Candle