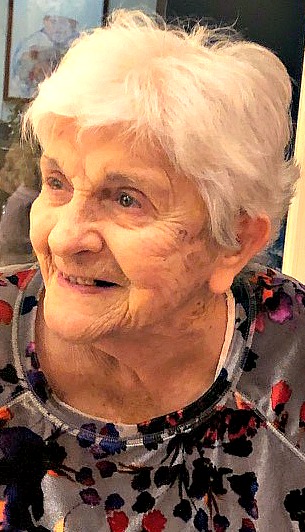 March 13, 1922 ~ March 18, 2020
Born in: Tollerburg, Colorado
Resided in: Wenatchee, Washington
Julia J. Scarafiotti, longtime resident of Aguilar, Colorado, died on March 18, 2020, in Wenatchee, Washington at the Colonial Vista Assisted Living Facility. Having lived a full and productive life, she achieved her final goal of celebrating her 98th birthday with her family at her side.
Julia was born on March 13,1922, to Albina (née Laner) and Joseph Pasquin in Tollerburg, a mining camp in southern Colorado. Her family moved to Aguilar, Colorado in 1931, where she attended school. As the oldest of seven children, she helped her mother raise her siblings. At age 18, through the National Youth Administration Program, she worked as a nurse's aid at the Denver General Hospital and thereafter as an elevator operator at the Denver Brown Palace Hotel.
On March 18,1943, she enlisted in the Women's Army Corps (WAC), serving nearly three years as a cook with final rank of Sergeant. She received an Honorable Discharge and Medal of Good Conduct.
Julia met Mike Scarafiotti in Aguilar, Colorado. They fell in love, and on August 15,1944, they married in Dalhart, Texas, with a full military wedding while Mike was on leave from the Army. After WWII, Julia, while raising two children, worked along side of Mike as owner and operator of the Scarafiotti Food Store. As business owners, she and Mike were active participants in the Aguilar community.
Years after Mike's death, never fearful of change, 88 year old Julia moved to an independent living retirement complex in Pueblo, Colorado. At age 96, deciding it was time to be near her family, she moved to an assisted living complex in Wenatchee, Washington.
Survived by her daughter, Carol (Gene Severino) Scarafiotti; son, John (Lisa) Scarafiotti; grandson, John Christopher (Katy) Scarafiotti; great-grandchildren, Michael Scarafiotti and Lara Scarafiotti; brothers, August (Noni) Pasquin and Carl (Grace) Pasquin; sister, Catherine DeBono; brother-in-law, Bill Gassino; numerous nieces, nephews, and cousins along with a multitude of treasured friends. Pre-deceased by her husband, Mike Scarafiotti; brothers, Ezio "Eshio" Pasquin and John Pasquin; sister, Ines "Enas" Gassino; and brother-in-law, Mike DeBono. Online condolences, www.montgomerysteward.com
Memories Timeline
Photo Gallery
Guestbook
Sign the Guestbook, Light a Candle