Joseph "Terry" Tindall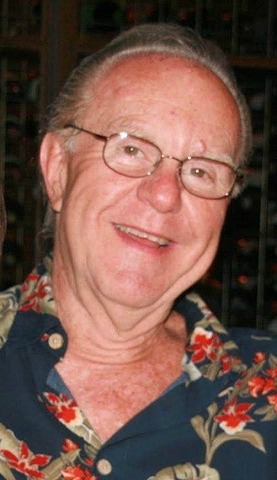 February 1, 1944 ~ December 19, 2020
Born in: Santa Monica, California
Resided in: Pueblo, Colorado
With a peaceful smile on his face and a mischievous glint in his eye, Joseph "Terry" Tindall left Pueblo, Colorado on December 19, 2020, to join the ranks of his adored family and friends who reside in heaven. Chronologically, Dad was 76, but in his heart, he was forever a robust, athletic, daring 21-year old young man who could — and did — conquer any challenge.
Terry was born in Santa Monica, California on February 1, 1944, to Mary Helen and David Ellsworth Tindall (both of whom have preceded him in death). Left to miss him mightily are his 12 children and their partners: Heather Tindall-Somosky (Steve), Glastonbury, Connecticut; Shana Passarelli (Alan), Pueblo, Colorado; Bryn Tindall (Jen), Southington, Connecticut; Tavis Tindall (Kelly), Southington, Connecticut; Tegan Acree (Mike), Alpharetta, Georgia; Devin Tindall (Charlotte, North Carolina); Deirdre Tindall (Jason), New Hartford, Connecticut; Brenna Tindall (Fort Collins, Colorado); Amber Rukaj (Joe), San Diego, California; Audra Grossnickle (Nate), Fort Collins, Colorado; Ashley Tindall (Clint), Fort Collins, Colorado; and Kendra Tindall (Kevin), San Diego, California. Dad also adored beyond measure, his 26 grandkids: Brittany, Matthew, Kieran, Bryce, Riley, Reese, Regan, Kyle, Ashlyn, Brayden, Keira, Cali, Kila, Quinn, Tyler, Tristan, Flynn, Donovan, Jackson (deceased), Jordyn, Kenna, Payton, Seth, Jake, Katie and Abby, as well as his great-grandson Dayton. He also looked forward to the birth, in March 2021, of his 27th grandchild. He had actually spent hours searching for names for his grandson, carefully reviewing the meaning and spelling of names he had once upon a time scribbled into the Tindall Family name book. Torin emerged as his favorite, and was actually a name he had considered for each of his own 12 children — although of course, it had never made the cut! Terry also leaves to mourn him, his former wife, Dolores (Dee) Brown Tindall (Southington, Connecticut), and too many true friends to count.
Dad was raised in Pueblo, Colorado and attended East High School where he was a standout football, baseball and basketball player. He met Dee there, and in1964, they eloped in Colorado Springs and then flew to Hawaii because he had earned a football scholarship to play for the University of Hawaii Rainbows. He earned his Bachelor's degree in Hotel and Restaurant Management there, and the first three of his 12 kids were born on Oahu, before he and Mom returned in the early 70's to Colorado (where Dad remained for most of the rest of his life, with the exception of a few detours in California and Connecticut). No one was more professionally industrious than Dad, and he worked tirelessly, creatively and ingeniously, first as an entrepreneur and later, as a commodities broker. Along the way, Dad also earned a second degree in Education and in his 50's, he embarked upon a career tutoring kids of all ages. He was truly a gifted educator, and perhaps missed his true calling, with his inimitable way of taking complex topics and simplifying them in a way that kids of all abilities were able to consume and relate. Dad was actually most proud of his career in educating the youth of our society and loved creating innovative education concepts. Dad was also a youth athletic coach, although he mostly reserved his abilities in this arena for his own children and friends' kids. Soccer, football, basketball, volleyball and tennis were his particular areas of expertise.
Dad was exceptionally humble and never liked to talk about himself. You really had to exhaustively ply him to get details about his own life, because he always considered others greater than himself. Selfless to a fault, he dedicated his life to his family and sacrificed his own dreams in pursuit of helping his children, his grandchildren and his great grandchild achieve their greatest dreams and aspirations. Even in his later years, he spent hours on FaceTime and on the phone or via email helping his kids navigate dilemmas, build companies, or resolve conflicts. He was the consummate problem solver and tireless researcher in pursuit of gaining victory over whatever challenges we faced. He was, in fact, at his best and happiest when he could get to work on formulating hard-fought resolutions to complex problems.
Dad was a gifted orator and an even more talented writer. He had a way with words, no matter the topic or format. A bit loquacious at times in what he penned, but eloquent and effective, nonetheless. Dad loved wine — the art of it really, the mystique of each unique bottle and how it smelled and tasted. He was a true connoisseur of both food and wine and he loved trying all cuisines. He was actually an adept cook himself. His spaghetti sauce and Hollandaise were to die for! He loved the Denver Broncos (although in some years, he called them the Donkeys), but he loved Tom Brady and the Patriots more, and engaged in many a hearty debate with certain of his children who were not necessarily fans of that club! Dad loved the BeeGees, cherry Dr. Pepper, whistling, beaches, the mountains, surfing, sunsets, traveling abroad, fish 'n chips, popcorn, anything sweet, the Yellowstone TV series (and he loved the Ryan Gosling movie, The Notebook, more than any movie ever!), playing Chinese Checkers matches with his kids, 7-11 Big Gulps, Jack-In-The-Box hamburgers, Burger King Whoppers, Chick-fil-A (loved the peach shakes and fries during the summertime!), Conrad's wings, the Broadmoor Hotel, watching sports of any kind and conservative politics.
Dad once wrote in an autobiography for his daughter's 8th grade school project, that he always felt that he had been born hundreds of years too late. He always wished he could have lived in the frontier era and been one of the first men to come West through the wilderness. That desire led to an interest in Native American and frontier lore, and at one time, Dad spent hours making authentic Native American tools and weapons, and actually constructed an arrow and quiver and matching clothes to go along with them.
Dad had an intense and unwavering commitment to God and he read his Bible religiously and laid every important decision before Him before embarking upon a course of action. He wasn't a churchgoer, and in fact was not a fan of organized religion. He passed this passion for God along to his kids as he raised us to adulthood, and under his tutelage, we memorized endless Bible verses that we can still recount today. He was a perfectionist, incredibly organized, fiercely independent and a man of integrity to his core. His word was his bond in every transaction. Striving to embrace his values in all his comings and goings was precious to him, and he sought to make all his decisions with his strong moral compass as his guide. He would most want to be remembered for his insistence on carving out his own path, in a manner that God would approve, despite what others might think of where that led. Conversely, his Irish heritage (of which he was so proud), led him to be endlessly playful and his shenanigans would put any leprechaun to shame, particularly his most beloved imaginary elf, Henry Hanke Panke. You could always tell when Dad was up to mischief, because that glint in his eyes gave him away . . . and that was quickly followed by his contagious, unmistakable, laugh when he had been found out.
In typical fashion, he did not desire a formal ceremony to mark his passing, so our immediate family and close friends and family will gather to celebrate his life next year. "For we know that if the tent that is our earthly home is destroyed, we have a building from God, a house not made with hands, eternal in the heavens." (2 Corinthians 5:1). Dad is at peace now, having the time of his life with God and Pompa, Granny, Bam and Stars, free of the trappings of his body that betrayed him in his final years. He would wish for you to go enjoy your life in a way that is meaningful to you, to be unafraid to make a difference and march to your own beat, and to always be on the lookout for how you could anonymously do some good for those less fortunate.
Memories Timeline
Guestbook
---