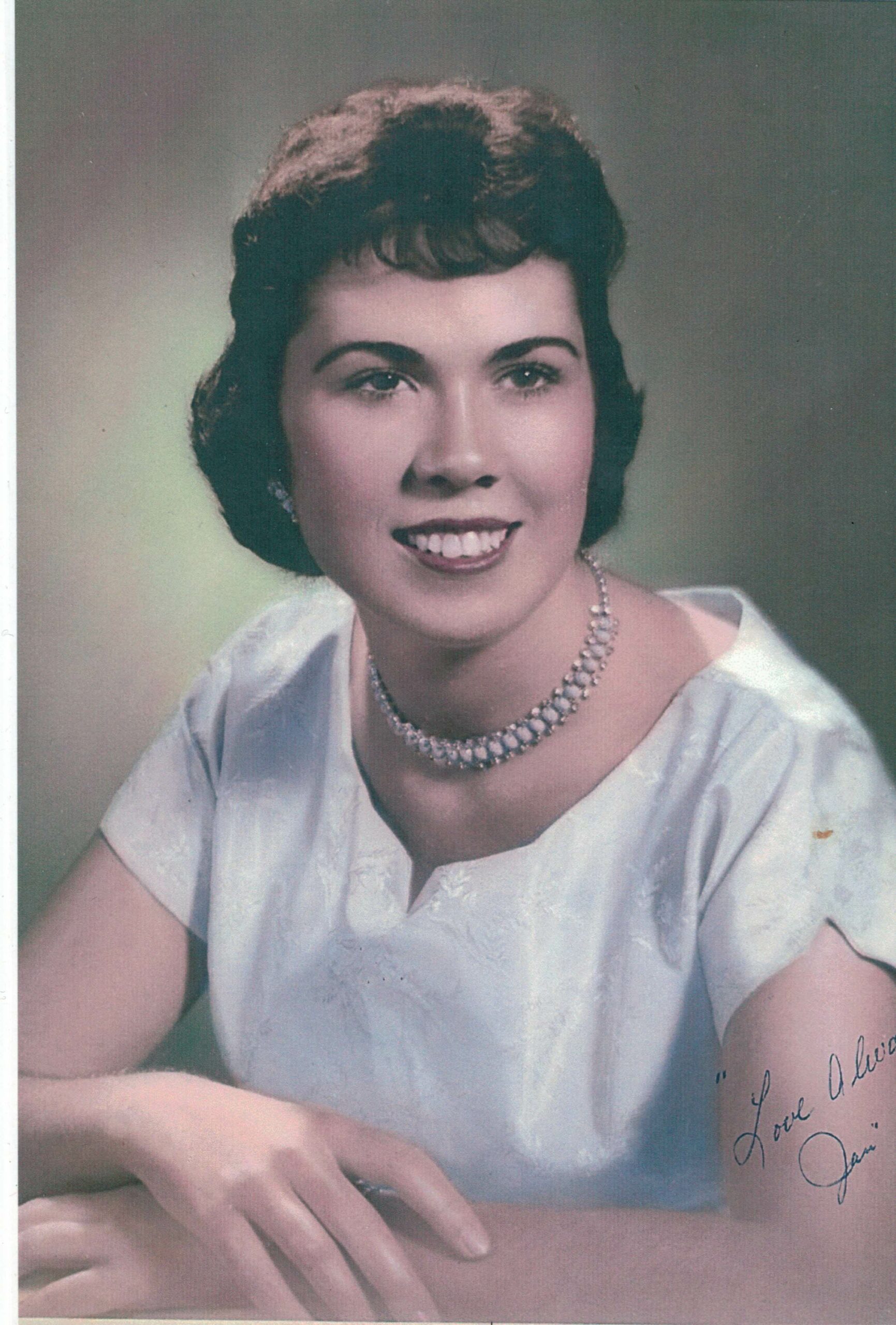 June 29, 1938 ~ September 27, 2021
Born in: Greenville, Utah
Resided in: Pueblo, Colorado
Service for Janet Steinbeck:

Janet Calvert Steinbeck
June 29, 1938 ~ September 27, 2021
Janet Steinbeck, 83, passed away Sept. 27, 2021. Survived by her husband of 61 years, Harold; sons, Russell (Linda) and Robert (Shirley); grandchildren, Chandler Steinbeck (Chad Sickler), Stacy Steinbeck (Tommy Erickson), Jenny Steinbeck, Robby Steinbeck and Amanda (TJay) Gottbehuett; great-grandchildren, Gavin and Jordyn Sickler, Jacy and Boyd Rogers and Gage Gottbehuett; sister, Ramona Price; brothers, Kent (Elaine) Calvert and Bill (Mary Helen) Calvert; sister-in-law, Anne Steinbeck; longtime friends, Vince and Madeline Cardinal; and many nieces, nephews and many many friends. Preceded in death by parents, Arthur and Vera Calvert; sisters, Edna Lee and Lola Strunk; and brothers, Lloyd, Doug and Clifton Calvert.
Janet was born in Greenville, Utah on June 29, 1938 to Arthur and Vera Calvert. Janet was the youngest of 8 children: Lola, Edna, Ramona, Lloyd, Bill, Kent, Doug, (Baby Clifton passed shortly after birth) and Janet. Janet's Father worked for the Railroad and died from an accident at work when she was five years old. Vera raised all eight children by herself. Janet was spoiled by all those brothers and sisters.
Janet's family moved to Caliente, Nevada and this is where she graduated from Pioche High School. She then attended Holy Cross Nursing School in Salt Lake City, Utah. Janet did her Psychiatric training in Pueblo, Colorado. When completed she returned to Salt Lake and graduated with her RN Nursing Degree.
Janet then returned to Pueblo where she had already met the love of her life, Harold Steinbeck. They married in October 1960 and raised two sons, Russ and Bob.
Janet worked at Parkview Hospital for two years before accepting an RN position at the
Colorado State Mental Hospital where she worked for 34 years. When Janet retired in 1994 she was the Divisional Chief for the Medical Surgical Unit which included the Medical Surgical Ward and the Outpatient Clinic. The Medical unit provided surgery and care for the psychiatric, criminally insane and the Department of Corrections patients. Janet really enjoyed all of the friends she made thru her work and still has these friends. She really loved her job and felt she made a difference, Three of the grand daughters have followed in her footsteps and have become RN's. Janet's grandson is also working on a degree in the medical field.
Janet loved spending time with her family. It seemed like every weekend they were going to Red Wing near Gardner, CO to our cabin in the mountains cutting wood, playing with the grandkids, picnics and going to the water park in Walsenburg. (Oh my the sun burns the kids did finally learn to wear a t-shirt and not burn.) We spent a lot of time at the Cardinal's ranch "Seven Feet from Heaven". We will never forget all our trips to Gunnison to see Uncle Archie, Aunt Anne and Lois and going to Lake City and learning our family history it was an amazing time.
Janet married an avid hunter and raised 2 sons and grandkids that loves hunting. Can you believe she even shot a 4 point buck with one shot at Ft. Carson hunting area . It was awesome. But really Janet loved shopping and going to Las Vegas to visit family in Caliente where she grew up.
Her most favorite thing to do was to go with Harold to Cripple Creek almost weekly on the Cripple Creek Bus. They always had the best time and really had a routine on how they would spend their day which always included a very delicious meal. Harold and Janet would often meet in Cripple Creek with their long time friends Vince and Madeline Cardinal and have a fantastic time. Janet was really pretty lucky and usually won a little money. It was a wonderful time for all of them.
Janet was a one of the nicest people you will ever meet. She had a heart of gold and would do anything for you. She was so caring and loving and her kids and grand kids were her world and of course Harold the Love of her Life he was the reason she loved her life so much. She lived her life to the fullest and loved every minute of it. She was the best. Janet we will miss you so much you were the light of our world. We love you.
Memorial service, 2 p.m. Friday, Oct. 1, 2021, in the Montgomery & Steward Chapel. Online condolences, www.MontgomerySteward.com
Services
Add to My Calendar
America/New_York
2021-10-01 14:00:00
2021-10-01 14:00:00
JanetCalvertSteinbeckMemorial Service
Memorial Service
1317 N. Main Street,Pueblo, CO 81003
Memories Timeline
Guestbook
Sign the Guestbook, Light a Candle