J. Mark Longfield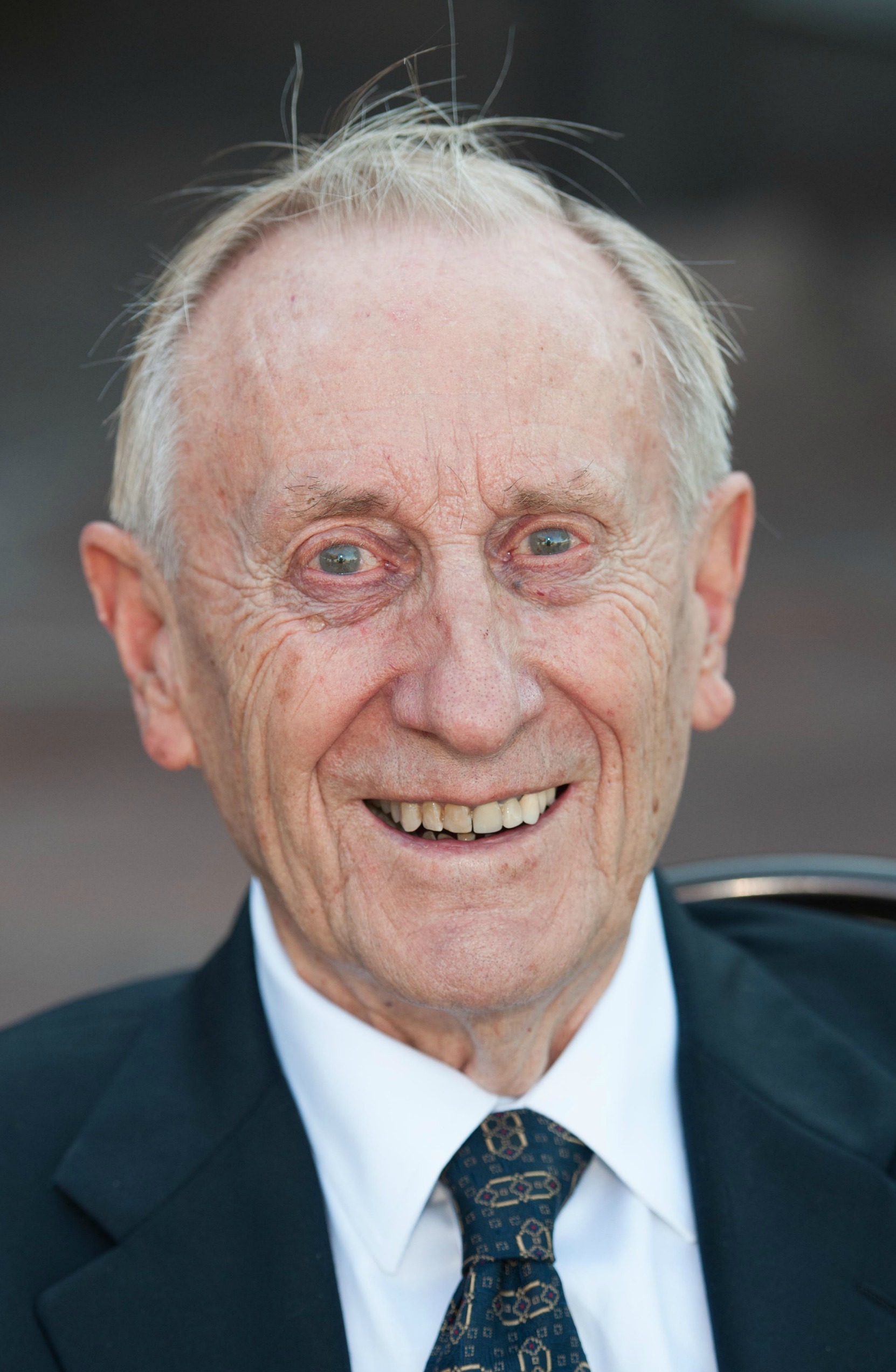 January 18, 1927 ~ December 26, 2019
Born in: Colorado Springs, Colorado
Resided in: Pueblo, Colorado
J. Mark Longfield, 92, passed away on Dec. 26, 2019. He had lived a long and good life.
A proud Colorado native, he was born in Colorado Springs on Jan. 18, 1927. His family moved to Pueblo when he was five and Mark attended Somerlid Elementary and Centennial High Schools. His active mind led him to participate in Centennial's speech and debate program and he became the Colorado state speech champion in 1944. He credited this experience for much of his later success. Summers were spent at Camp Crocket (now Camp Jackson) where he developed his lifelong love for the outdoors and horses. Mark so loved the camp that later in life he would purchase the adjacent ranch property.
Upon turning 18 in 1945, Mark left high school and joined the Navy Air Corps, training as an aviation electronics technician and spent the next two years repairing naval aircraft. Upon discharge, he returned to Colorado where he attended the University of Denver, earning a Bachelor of Science in Accounting.
After graduation, Mark returned to Pueblo and began his long and varied business career. He used to joke that he couldn't keep a job. A truer statement is that he never saw a business that he didn't know how to run. Local business interests included managing Jackson Chevrolet; opening Advance Finance, a small loan company; and owning and operating Fountain Sand and Gravel and Alcora Materials, the latter of which built Federal government dams and water diversion projects throughout the United States. Local Alcora projects included the Navajo dam and irrigation system, the Blue Mesa dam, the Pueblo dam and the Frying Pan-Arkansas pipeline that supplies Pueblo and Colorado Springs with much of their water to this day.
After selling Fountain Sand and Gravel and Alcora, Mark became a money manager for a wealthy Houston family. From his office in Pueblo, he managed oil and mineral interests throughout the world and real estate projects and other businesses all across the U.S. Of local interest, he purchased Pueblo based Rocky Mountain Banknote on behalf of the Houston family. Even in "retirement" Mark continued to work. He helped develop Dove Canyon, an upscale residential real estate property in Southern California. His final business project was his daughter's Santa Fe furniture store. He helped her run it after her husband passed away. Neither father nor daughter knew anything about the furniture business, but they figured it out together.
As the Camp Crocket experience suggests, there was more to Mark than business. He loved being outdoors and was an accomplished fly fisherman, skier and horseman. He loved to work on his ranch, the brush cutter being his favorite piece of equipment, much to the family's annoyance because it was so noisy. He loved to fly and was instrument rated for twin engine aircraft.
But mostly Mark loved his family, for which he would do anything. He married the love of his life, Marie Sack, on Dec. 23, 1951. He always said it was the smartest thing he ever did. Their marriage lasted 68 years and they had two children. Though he worked long and hard, he always spent his leisure time with his family and said no day was complete without listening to Marie play Chopin on the piano. We will all miss him so much.
Mark was preceded in death by his parents, Mary and John Longfiel; sisters, Miriam Billings and Betty Brown; son-in-law, John Stevenson; and numerous dogs and horses. He is survived by his wife, Marie Longfield; son, Douglas Longfield of Albuquerque; and daughter, Katie Longfield and her husband Sam Haas of Santa Fe.
Finally, the family wishes to thank the staff at the Villa and Visiting Angels for the gentle care they provided Mark in his last days and Dr. Jim Stjernholm and nurse practitioner Ricky Monet of Sangre de Cristo Hospice for their medical expertise. We would especially like to thank Pearl Sandoval who helped Mark for many months at home.
Memorial Service, 2 p.m. Thursday, Jan. 9, 2020, in the Montgomery & Steward Chapel. In lieu of flowers, please make a donation to Pueblo Community College Foundation, 900 W. Orman Ave., Pueblo, CO 81004. Online condolences, www.montgomerysteward.com
Service For J. Mark Longfield:
Services
Add to My Calendar
America/Denver
2020-01-09 14:00:00
2020-01-09 14:00:00
J. MarkLongfieldMemorial Service
Memorial Service
1317 N. Main Street,Pueblo, CO 81003

Memories Timeline
Guestbook
---