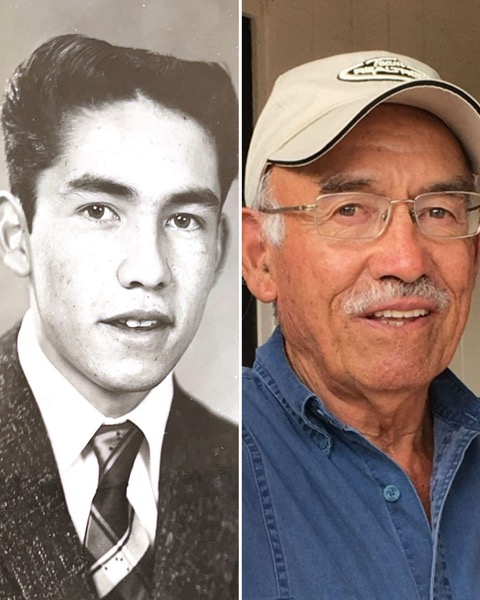 November 8, 1938 ~ November 1, 2022
Born in: Llano Quemado, NM
Resided in: Pueblo, CO
Fred Arcenio (Junior) Mondragon, 83, formerly of Leadville, passed away peacefully at home in Pueblo surrounded by his wife, Mary, and four daughters, Chris Vigil, Valerie and Paula Mondragon, and Michelle Flores on Tuesday, November 1, 2022. He was a beloved husband, father, grandfather, great-grandfather, uncle, cousin, friend, and his family's HERO.
Fred was born to Jose (Joe) and Pablita Mondragon in Llano Quemado (Taos County), New Mexico on November 8, 1938, where they lived on their family's farm/ranch until 1950, when they relocated to Leadville, Colorado. In August of 1954, Max Schott High School (Climax) recruited Fred and his brother Orie to the Varsity Basketball team. They offered their dad, Joe, a job and housing in Climax for the family to remain in Colorado – as they were planning on returning to New Mexico. The decision was successful as the Blue Devils Varsity Team won the Division A State Basketball Championship. Fred then graduated from Climax in 1956 before attending the U.S. Marine Corps., at the age of 17. As Fred was not of age to enlist in the military, his mom reluctantly signed (with his dad's approval) for him to join the Few, the Proud – the Marines. The Corp took Fred to various locations throughout the Country, including Basic Training in San Diego, CA; Second Infantry at Camp Pendleton in Oceanside – San Clemente, CA; and he was stationed in Kaneohe Bay (Oahu), HI, where he became a member of the Amphibian Attack Force in the Pacific Islands and an extra on the set of the movie, South Pacific. Corporal Mondragon was later stationed and honorably discharged from Treasure Island in San Francisco, CA, in April of 1958. He then returned to Leadville and was recruited to play basketball and offered a full-ride basketball scholarship to Mesa State University in Grand Junction. Fred suffered an injury while playing football in preparation for the basketball season; he returned to Leadville and sadly forfeited his scholarship. After returning home, he met his future wife, Mary Gurule. Fred and Mary were married on May 7, 1960, in Leadville and then started their family in 1961. Christina was the first of four daughters, followed by Valerie, Michelle, and Paula. At this time, he also began his 30-year career at the Climax Molybdenum Mine, where he held many different titles and positions, including the Labor Union Vice President. During these 30 years at Climax, there were several strikes and layoffs. This resulted in Fred having to move his family to pursue other opportunities in Toole, UT; Santa Fe, NM; and Pueblo, CO. Fred returned to Climax one final time, where he remained until his retirement in 1991. After Fred's retirement, he and Mary moved to Pueblo, where his daughters, Valerie and Paula, and grandson, Joseph, and close family friend, Tammy Robinson (who was like another daughter), soon followed. They started another chapter of their lives. Fred and Mary both worked for Pueblo School District 60. He worked for the school district for ten years and fully retired in March of 2001 at the age of 62.
Fred had several hobbies and interests throughout his lifetime, including basketball, baseball, fishing, boxing, bowling, hunting, golf (with a few "holes-in-one" under his belt), camping, and a love for the mountains. He was a devout Catholic and a very active member of the Cathedral of the Sacred Heart. Fred's way of fulfilling his commitment to God was carried out by serving as Eucharistic Minister, Lector, and Usher. He was also a member of the Legion of Mary. After Fred fully retired, he volunteered to administer Holy Communion for both men and women at the San Carlos Correctional Facility, City Jail of Pueblo County in Pueblo, and Federal Prisons in Fremont County. He also prayed the Rosary with the inmates. Fred once said, "It was a wonderful experience to see that we all need God in our lives regardless of how or where we are." It was a very gratifying experience for him.
Fred was preceded in death by his father and mother, Joe and Pablita Mondragon; his sisters, Carmelita, Priscilla, Maxine (Eliverio) Mondragon, Becky (Ben) Brito, and Eva (Amadeo) Mondragon; and his brothers, Horacio (Orie) and Leo (Sharon) Mondragon.
He is survived by his wife, Mary; his daughters, Chris (Norman) Vigil, Valerie Mondragon, Michelle (Mike) Flores, and Paula Mondragon; his six grandsons, Joseph Martinez, Gabe (Stephanie) Vigil, Dominic (Shannon) Vigil, Michael (Brugette) Flores, Matthew Flores, and Jayden Mondragon-Martinez; his great-grandson, Gabriel Vigil, and numerous nieces, nephews, other relatives, and friends.
Cremation by Montgomery & Steward Crematorium. The Rosary will take place at 7 p.m. Friday, November 18th, and the memorial Mass, Saturday, November 19th at 10 a.m. Both services will be held at the Cathedral of the Sacred Heart, 414 W 11th St. in Pueblo, CO. with the Reverend Derrek Scott as celebrant. The Eulogy will be given by his daughter, Valerie Mondragon. Fred will be laid to rest at St. Joseph's Catholic Cemetery in Leadville in the Summer of 2023. Military Funeral Honors will be given by the U.S. Marine Corps Honor Guard with folding and presenting of the United States flag and the playing of "Taps." A reception will follow the Mass at "The Stick" at Walking Stick Golf Course, 4301 Walking Stick Blvd, Pueblo, CO.
The family would like to thank and express their deepest gratitude to Sangre de Cristo Hospice for the wonderful and compassionate care they gave to our husband, father, grandfather, and great-grandfather. Online condolences, www.MontgomerySteward.com
Services
Rosary: November 18, 2022 7:00 pm
Cathedral of the Sacred Heart
11th St. & Grand Ave.
Pueblo, CO 81003
719-542-1552

Add to My Calendar
America/New_York
2022-11-18 19:00:00
2022-11-18 19:00:00
FredArcenio (Junior)MondragonRosary
Rosary
11th St. & Grand Ave.,Pueblo, CO 81003
Memorial Mass: November 19, 2022 10:00 am
Cathedral of the Sacred Heart
11th St. & Grand Ave.
Pueblo, CO 81003
719-542-1552

Add to My Calendar
America/New_York
2022-11-19 10:00:00
2022-11-19 10:00:00
FredArcenio (Junior)MondragonMemorial Mass
Memorial Mass
11th St. & Grand Ave.,Pueblo, CO 81003
Memories Timeline
Guestbook
Sign the Guestbook, Light a Candle