Edna Jaramillo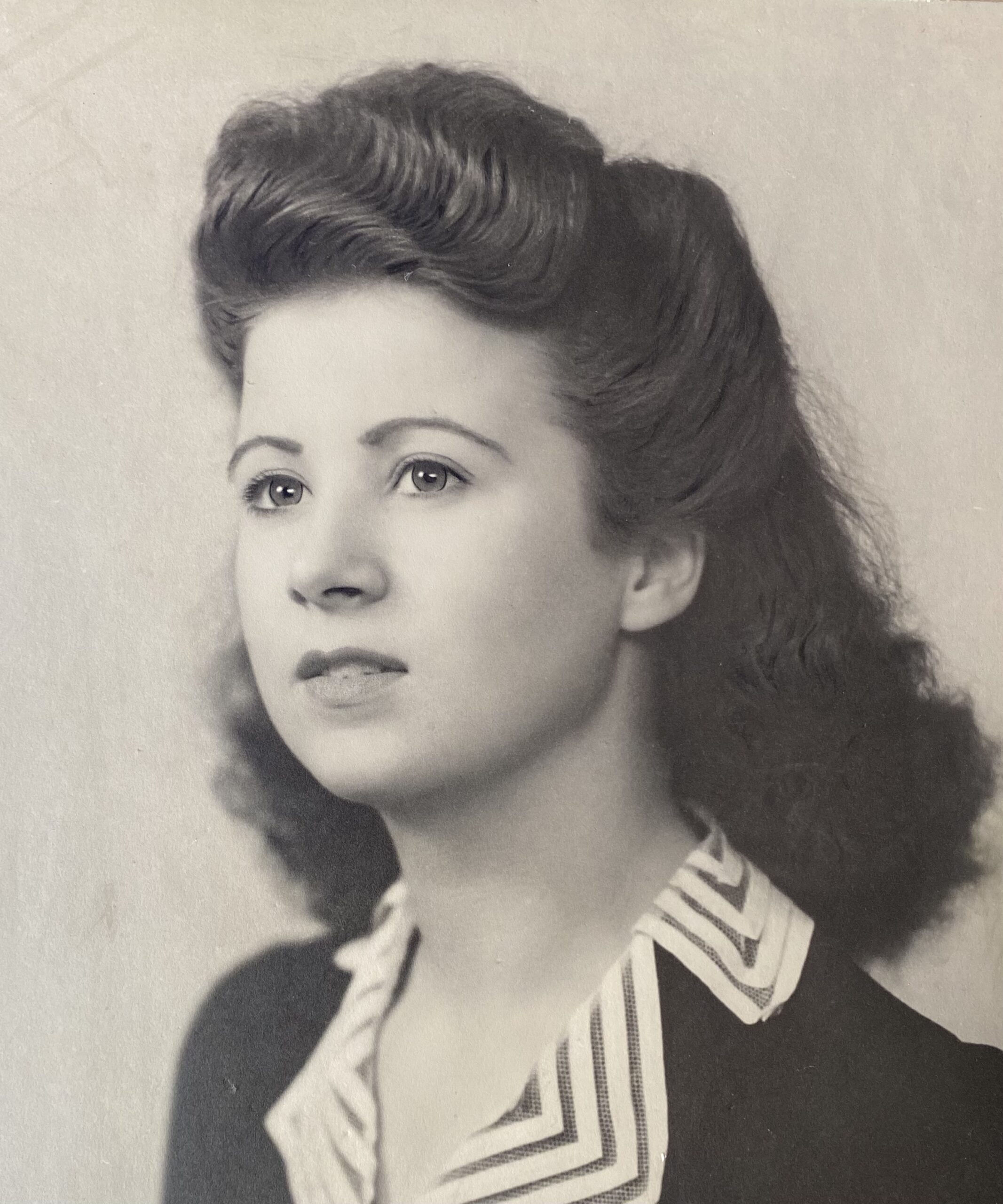 June 11, 1928 ~ September 30, 2021
Born in: Southhampton, England
Resided in: Pueblo, Colorado
Hello, I am Edna (Née Simmons) Jaramillo's firstborn son, Michael, and I would be honored to tell you about our mother Edna. How does one sum up a life of such richness, struggle, perseverance, courage, and love? I will attempt to. I met Edna Dorothy May Simmons Jaramillo on November 30, 1948. She was just 20 years of age and enduring her first childbirth alone in a liberated Nazi Luftwaffe hospital in Frankfurt Germany. Her American husband-soldier Jerry was doing what occupational soldiers did in those days and couldn't be there for her. It wasn't the first time and it wouldn't be the last time that Mum had to rely on her wits to overcome adversity. She was born and raised in Southampton England and was the only daughter in her family. She was a bright and shy girl and endured the torments of her brothers who she loved dearly. She came from seafaring stock and her dad Earnest Simmons served his life at sea as a merchant mariner. She had two uncles who served as cabin stewards aboard the Titanic. That "Ship of Dreams" claimed both of their lives. Fred Simmons perished during the sinking and John Charman later succumbed to depression and what her family called "survivor's guilt." Her dad carried ancient faded blue tattoos on his arms from his seafaring life. He loved to play piano and sing and I am certain that Mum accompanied him with her lovely voice. She later sang in a dance band in her teen years. Then came War. The bombing blitz of Southampton began in earnest on November 30, 1941. The family had a bunker in their backyard that they sought shelter in during the worst of those raids. There was an anit-aircraft gun at the top of the lane banging out its response to the terror planes. Precious gasoline was being stored in the bunker and it accidentally ignited and Mum was badly burned on her hands and arms. Eventually she was sent with hundreds of other children to the Isle of Wight for protection. She helped care for the nippers but was almost killed by a German Meschermitt fighter who attacked her with machinegun fire while walking in a field. She claimed that the plane was so low that she could see the face of the pilot clearly. Her own family paid dearly for their gallant defense of freedom. Her older brother Ron was terribly wounded in the Royal Army North Africa campaign and her brother Stanley paid the ultimate price when his Royal Navy ship was torpedoed and sunk in the English Channel. The way I recall the story my dad was carousing in a local pub in Southampton with one of Mum's brothers, probably Ernie, who brought him home to meet the family.
Dad must have taken an immediate shine to this lovely quiet young woman and he began using his access to goods to help the family sustain itself. Dad was staging in Southampton in 1944 in advance of the D-Day Invasion. He fought bravely through France and Germany in the US Infantry. He was a decorated soldier and awarded the Bronze Star, Purple Heart and the Berlin Airlift medal. Mum and Dad eventually married and began a family in Germany. In 1950 Dad was finally sent home and we were stationed in Ft. Jackson SC. Mum found herself alone again and raising two young sons when Rick was born at Ft. Jackson and Dad was sent to fight in the Korean War.
In 1955 we were sent to Ft. Hamilton, Brooklyn, NY. Life was exciting then for us as we enjoyed this posting and Mum could occasionally visit with a brother when a Cunard ship would come to NY harbor. It was all Mouseketeers and Rock n Roll for me. 1957 saw us crossing the stormy Atlantic aboard the " Gen Maurice Rose" MATS ship on our return to Germany for a four year posting in Pirmasens and Hielbronn. Sister Maggie joined the unit in 1958.
We flew back to Ft. Hamilton in 1961 where Dad was once again assigned to complete his service in the Armed Forces. In Sept of 1963 Dad remained in NY while Mum and her 3 kids sailed aboard the SS United States to Southampton England where we intended to live our new civilian lives. Dad rejoined us a few weeks later. Rick and I entered English schools and tried to adjust to our new challenges. Unfortunately Dad couldn't settle in there and by the end of December decided to move us all to Pueblo Colorado where he felt his brother Charles could help him find employment. Dad had grown up in the Walsenburg area and I guess he wanted to return home but for our heartbroken mother it might as well been the dark side of the moon. Her dream of living in England again was dashed. Mum did what she always did with sadness and adversity and fell back on the Simmons' motto Upward and Onward!
Though she was terribly unhappy she put her own feelings aside and began to help Dad build a good life for us here. I soon found myself a Central Wildcat and Rick and Maggie were attending Carlisle. Dad bought a cute little house on Harrison Street that was already too small for his growing family and set to work adding on to it. He converted the attic for Rick and I and Maggs had her own bedroom. He even dug out a basement by hand and shovel. Mum kept us all looking smart with her eye for fashion and her sewing skills. Pueblo became a stable home that we had never experienced before. Mum never gave up on having more children and suffered several devastating miscarriages before the light of her life arrived, our baby brother Geoffrey! I was 18 at the time and we certainly raised some eyebrows when I would drive her to Ft. Carson for her OB/GYN appointments.
Mom was determined if nothing else. Dad eventually completed another career at the Colorado State Hospital and was on top of the world when he finally retired in 1985. Sadly he only enjoyed 3 years of retirement when a series of heart attacks claimed him in 1988. Mum was really on her own this time and her future no longer looked comfortable. Mum had to go to work. She did so by helping her friend Judy Lee create and manage the very successful boutique Raz Ma Taz on Union Ave. She really threw herself into the project and with her talent, skills and savvy business sense she was able to keep her household together. She and Judy were a great team and it was an exciting time for Mum. She really enjoyed their buying trips and a bit of travel.
There were occasional trips home to England where she revelled in the love of her family there. Mum helped to dress some of the ladies of Pueblo and became quite familiar with the movers and shakers in the county. She had a wonderful companion in retired Air Force Colonel R.J. Shultz and they attended many military functions and Balls together. She was a founding member of a British wives club that later became the Tea Cozy Club. She became active in local theater and became the head dresser for the touring shows that visited the Pueblo Theater. She confided that she was not at all impressed with Ms. Rita Moreno's attitude lol.
We were all, collectively, the light of her life. Mum aged very gracefully and kept her well-honed wit, charm, and British accent throughout her long life. She never gave up her high moral standards either. She was blind to race and color and accepted everyone as her equal (though few of us really were!) Mum suffered many of the maladies that people her age must bear and she became increasingly frail in her 90's. She would occasionally fall and was able to survive a recent hip replacement. She was able to continue her long life in her own home due to the hands on loving care of our youngest brother Geoffrey. They were quite a team and the very best of friends.
Her children in chronological order are Michael, Richard, Jacqueline (Maggie), and Geoffrey. Maggie gifted Mum with two loving grandchildren: Gilllian and Moudi (Ronin). Gillian gave Mum her four greatgrandchildren: Violet, Oliver, Penny, and Elliot. When Mum began to fail and entered hospice care her children and friends rallied around her. She reached her final rest at 5:04 am on September 30, 2021. She was 93 years old. As per Mum's wishes there will be no formal viewing or services.
On Behalf of the family, we wish to extend our gratitude to the staff of the Joni Fair Hospice House for making our mum's final days as pleasant and peaceful as possible.
Donations in Edna's name may be made to Southern Colorado Spay and Neuter Clinic, 1700 S. Prairie Ave., Pueblo, CO 81005.
Onward and Upward.
Memories Timeline
Guestbook
---