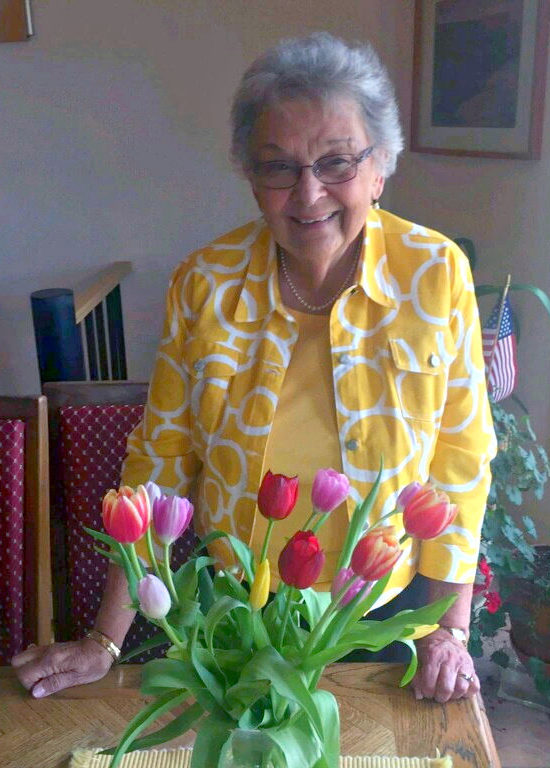 December 1, 1941 ~ June 1, 2020
Born in: Duncan, OK
Resided in: Silver Cliff, CO
Phyllis Ann (Barrett) Bishop, 78, a resident of Silver Cliff, passed away on Monday, June 1, 2020.
She was born in Duncan, Oklahoma on December 1, 1941, the daughter of Vernon and Ruth Barrett.  Her brother Herbert Barrett (Martha) passed only a little over a week ago and she is survived by her sister, Mary Steele (David).  She married Donald Bishop on June 19, 1964 (would be 56 years married this year) and together they raised 2 children, Monique Mikula (Marek) and Vincent Bishop (Amy).  She has 3 grandchildren, Blake, Spencer and Cece.  She has many nieces & nephews and great nieces & great nephews.
Phyllis was born a week before Pearl Harbor and that helped her children keep that day as a day to remember.  She was a talented musician and played the piano, organ, dulcimer and autoharp. At Christmas she even managed to get the family to perform "Joy to the World" with handbells in the snow!  She had a passion for music early on in life and pursued a career in music.  She graduated from Duncan High School where she was a member of National Honor Society, Jr. Police, and Pep Club.  High school honors attained were Honor Society and Outstanding Music Chorus Award.  Phyllis received her Bachelor of Music Degree at Oklahoma City University in 1963.  While in college, she was a member of Sigma Alpha Iota (Honorary Music Fraternity), was elected to Who's Who in American Colleges and Universities and a member of Surrey Singers group.  The singers were part of the USO entertainment for the military troops and they toured the South Pacific in 1962 and 63 performing the musical "Oklahoma".  From that time onward anytime our family crossed over the border into Oklahoma the title song from that play was sung with great gusto.
Phyllis took her first elementary music teaching position in Burlington, Colorado in 1964 and became the new United Methodist Choir Director.  She met the love of her life at choir practice. Don had heard there was a beautiful new Choir Director and they soon were wed, but only after he assured her that he would build her a house on the farm.  Phyllis loved teaching music, piano and voice to all ages. She loved to direct her church choirs and was a church musician her entire life.  She taught piano from her home all the way through to her passing.  She sang and performed in many groups and with her husband and children.  She was an avid reader, loved to color with colored pencils, play board games and play canasta to win (of course). Candy treats for her students and fresh cut flowers in the house were her signature.
While living in Burlington, Phyllis was an active member of the Burlington United Methodist Church, served as President of the United Methodist Women, music teacher for Bethune School K thru 12 pausing only to have her children & Burlington Middle School. She learned to fly an airplane and she & Don competed in Square Dancing. In 1983, the Bishops moved to Westcliffe permanently after having the cabin since 1978. She was a member of the Community United Methodist Church where she directed the choir, sang and played the piano, organ.  She taught music for Custer County Schools K thru 12 until spring of 1987.  She attended dulcimer group, board and card game days, book club and Red Hat Society.  She was a member of the Chamber of Commerce when she & Don owned the Westcliffe Inn Motel and she was the lead in the musical "Quilters" at Westcliffe Center for the Performing Arts.  When with the Chamber of Commerce, she assisted with "Jazz in the Sangres".  She volunteered at the Bluegrass Festival, now known as High Mountain Hay Fever Bluegrass Festival and she was quite sad that the festival had to be cancelled this year.
Prior to her being in a car accident in 1987, Phyllis and Don enjoyed golf, tennis, swimming, bicycling, hiking, camping and skiing.  Her car accident slowed her down for 10 months in a full leg cast, but it made for avoiding long lines in the hot summer at Disney World & Epcot Center.  Then, she began to walk again.  She & Don travelled for his electrical project management work around the country where they met many people and were able to be a part of many United Methodist churches from Tustin, California to Cheney, Pennsylvania to Macon, Georgia, to name a few.  They rode tandem bicycles along the beach and in parks all over the country.  When bicycling had to cease, they traded the bikes for Airstream camping, Airstream rallies, camping with friends and finding all the hot springs spas from New Mexico to Wyoming.  She did however say the best healing spa she ever went to was in Bes'en'ová Slovakia, where her legs did not hurt for several weeks.
Phyllis had a beautiful life, loved people, greeting cards and flowers for people and from people and pictures, pictures & more pictures of people (and furry "grand pups" and "grand kitties").  She had a knack for bringing different walks of life together thru her love of music, singing and praise of God through hymns.  She adored the saying "Friends are the Flowers in the Garden of Life".  Phyllis was a flourishing, vibrant, joyful, spunky, sweet, kind, loving woman and she blessed so many with the gift of friendship through music in many forms to experience life on another level and most of all for adoration and prayer with our God.  Thank You Jesus for our dearly, departed Phyllis: Wife, Mama, Aunt, Grandma, Babi, Teacher, Friend, Servant of God- You will be greatly missed. "…Till we meet, Till we meet, Till we meet at Jesus Feet, Till we meet, Till we meet, God be with you till we meet again."
Private family burial at Ula Cemetery. In lieu of flowers, memorials may be made to Community United Methodist Church of Westcliffe, 204 S. 6th St., Westcliffe, CO 81252, Westcliffe Center for the Performing Arts, PO Box 790, Westcliffe, CO 81252 and High Mountain Hay Fever Bluegrass Festival, PO Box 1199, Westcliffe, CO 81252 (719)783-0883.
Phyllis "Flourishing"
"Have I not commanded thee? Be Strong and of a good courage; be not afraid, neither be thou dismayed: for the LORD thy God is with thee whither-soever thou goest."  Joshua 1:9 (KJV)
Services
Graveside Service: June 8, 2020 10:00 am
Ula Cemetery

Westcliffe, CO 81252
719-783-2632

Add to My Calendar
America/New_York
2020-06-08 10:00:00
2020-06-08 10:00:00
PhyllisAnn (Barrett)BishopGraveside Service
Graveside Service
,Westcliffe, CO 81252
Memories Timeline
Guestbook
Sign the Guestbook, Light a Candle