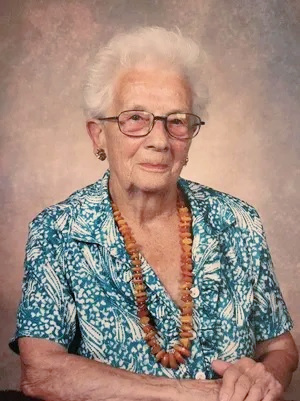 January 31, 1922 ~ January 27, 2023
Born in: Lodz, Poland
Resided in: Pueblo, CO
Celebration of Life:

Augustyn Lucia Hipp, of Pueblo, passed away peacefully at home on Friday, January 27, 2023, just 4 days before her 101st birthday.  Lucia was born January 31, 1922, in Poland and was preceded in death by her loving husband, Roy L Hipp, Sr., (1988) her son, Roy L. Hipp, Jr. (2021), her daughter, Elizabeth Hipp (2022), and her grandson Luke Dawson (1988). She is survived by her son, Larry Hipp (Nancy), daughter, Esther Dawson, daughter-in-law, Donna Hinders Hipp, grandchildren, Heidi Caruso, Sonja Crosier-Shaw, Mark Wilson, David Dawson, Mathew Dawson, Peter Dawson, Danny Dawson; and great-grandchildren David Connors (Kiya), Ashlly Connors, Brody Moffit, and Paiton Underwood.
Lucia's amazing story has inspired many.   As a Polish refugee, she saw and experienced many tragedies, but Roy Hipp's compassion was upon the family and he agreed to marry her in order to rescue her, even though the two didn't speak the same language. He was serving with the occupation in Germany and was eventually able to bring Lucia to America for a new life.  In time, Lucia's mother and two sisters joined as well. 
Lucia devoted her life to helping others.  She appeared before many organizations, including the Daughters of the American Revolution (DAR) where she was awarded a Medal of Americanism in 1956 for her efforts in helping many immigrants gain and value their citizenship. Speaking several languages, she was often asked to serve as an interpreter. 
Her passion for helping others soon extended to animals, especially the abused and abandoned.  Being a Polish refugee during the war, gave her a deep sympathy. She facilitated many animal rescues and taught others about proper care, starting the first Animal Welfare and Protection Society in Pueblo back in the 1970s. Over the years, she helped place thousands of animals into safe homes, including Cricket, her beloved dog, who was by her side to the end.
Lucia continued to remain a strong survivor-minded person even after the passing of her husband in 1988. She loved having company at her home, where she enjoyed playing her board game and sharing conversation.  Before her body would no longer allow it, she loved spending time in her backyard, greeting the squirrels and birds. Lucia was a woman with a quick wit and wisdom that came from experiencing hardships.  As Lucia would often say, "You don't learn anything on the sunny side". 
A special thank you to the caregivers who tenderly cared for her during her last year, along with dear family friends, Dr. Randy Dygert, Ellyn Reynolds, and Louella Chapman.
A service will be held at 11 a.m. Saturday, March 4, 2023, in the Montgomery & Steward Chapel. Online condolences may be given at www.montgomerysteward.com
Services
Add to My Calendar
America/New_York
2023-03-04 11:00:00
2023-03-04 11:00:00
LuciaAugustynHippMemorial Service
Memorial Service
1317 N. Main Street,Pueblo, CO 81003
Memories Timeline
Guestbook
Sign the Guestbook, Light a Candle