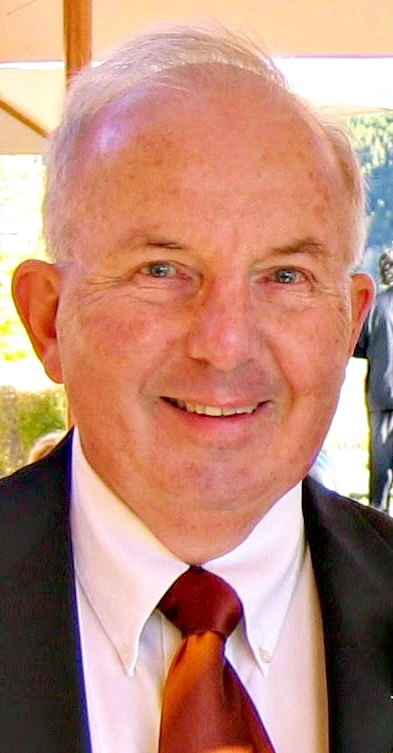 May 7, 1938 ~ March 19, 2020
Born in: Alpena, Michigan
Resided in: Pueblo, Colorado
Streaming of the service will be available on the church Facebook page: stpiusxpueblo
Charles Henry Bedard, M.D.
May 7, 1938 – March 19, 2020
Charles H. Bedard, 81, of Pueblo, Colorado passed away at his home on March 19, 2020, surrounded by his loving family near and far. Born in Alpena, Michigan on May 7, 1938, to Charles Henry Joseph "Pat" Bedard and Emily St. Charles Bedard.
Chuck grew up in beautiful Alpena, Michigan with his three siblings on Lake Huron's Thunder Bay where his love of the outdoors, fishing and hunting flourished. He was known to cause some mischief around the small town and even found his antics written up in the local newspaper on occasion, much to the dismay of his parents. He attended Catholic Central High School, was a small but mighty member of the football team and graduated 1956. He then attended Michigan Technological University for two years before deciding engineering wasn't for him and transferred to the University of Michigan where he graduated in 1960 with a Bachelor of Arts. Chuck moved to Omaha, Nebraska to attend the School of Medicine at Creighton University graduated in 1964.
While on a visit home during medical school he met nursing school student Patricia Kuclo on a blind date, which truth be told didn't go too well. But the spark was there and the two reconnected a few months later and were married on August 25, 1962, in Detroit, Michigan. Following medical school, he was drafted in 1965 into the U.S. Army Medical Corps and proudly served his country stateside. Following his military service, he completed his residency in otolaryngology at Henry Ford Hospital in Detroit.
In 1971, Chuck, Patty and their then five children moved in the trusty station wagon to Pueblo, Colorado. He helped found the Southern Colorado Clinic along with seven other Michigan doctors, who remained lifelong family friends. After settling into the red house on 24th street (where they resided for over 40 years) the final Bedard arrived and completed the family. A few years later Dr. Bedard set-up his own ENT and maxillo facial surgery practice, which he continued for 35 years before retiring in 2006. He left his practice in the hands of his long-time partner and good friend, Dr. Scott Howe. He was dearly missed by his patients and staff following his retirement and would often drop by the office to visit with everyone to keep them on their toes and also laughing.
During his long medical career, Dr. Bedard served as the Chief of Staff at Parkview Medical Center from 1985 – 1987, President of the Pueblo County Medical Society and was an assistant clinical professor in the department of otolaryngology and neck surgery at the University of Colorado Health Science Center in Denver. He was proud of the fact that for many years he and his staff would travel to Trinidad and Walsenburg monthly to hold clinics and provide the residents of these towns access to a specialist. He also volunteered his time and provided free and reduced cost medical care for clients of the Pueblo Community Health Center. Additionally, he volunteered as team physician for many local sports teams, in particular Centennial High School where all six of his children attended and he also served on the board of the Booster Club. Dr. Bedard was a leading force in establishing the mandatory hearing screening for all newborns in Colorado. In 1988, he was awarded the A.H. Robbins Community Service Award from the Colorado Medical Society in recognition of his longtime commitment to local civic and charitable organizations.
In addition to work, Doc had many hobbies and interests which he pursed with passion. He was a little league baseball coach and could often be found loudly cheering at his children's various swim meets, football and basketball games or enjoying their many musical concerts. He raised and showed rabbits with his children – even serving as the president of the Southern Colorado Rabbit Breeders Association and becoming an official rabbit judge and would spend a few weeks every summer at the Colorado State Fair in the small animal barn. Dr. Bedard was an avid art collector and started his own company, El Pueblo Fine Arts. He got the nickname Dr. Quack because of the dozens of framed duck stamp prints and fowl artwork that lined the walls of his office.
Doc was able to fulfill his lifelong dream and owned his own ranch just east of Pueblo, the Indian Bend Ranch (IBR). Initially purchased to host duck and pheasant hunts, he soon filled the acres with horses…lots of horses! In typical fashion, Doc jumped in and learned everything he could about his newest passion and started breeding paint horses. IBR had a few outstanding reining horses that earned him many large, ornate belt buckles that he wore with pride. Known as Pop Pop to his grandchildren, they loved visiting the ranch with him, riding horses and all-terrain vehicles, learning to shoot and playing in the very high tree house he built for them.
Doc was huge supporter of CSU Pueblo, first serving on the board of trustees of the University of Southern Colorado Foundation and later with the Friends of Football. He loved the ThunderWolves football team and it was a great joy for him in the last few years to attend home football games with friends and follow the many successes of the team. He also proudly served on the Board of Directors and was Treasurer of the Great Pueblo Sports Association in the latter part of his life.
All who knew him will recall that he was smart, witty, hardworking, often demanding, a mentor and generous giver of his time, talent and treasure. And, of course he could curse a blue streak and was a great teller of jokes and stories … most often not "clean" jokes but always very funny. He liked to say that he knew two languages – English and Profane. He enjoyed traveling with his family, loved to fish, was a connoisseur of beer, ruled the family poker table at Thanksgiving, collected shotguns, was an avid reader of everything he could get his hands on, studier of Native American art and culture for years, was the go-to tool expert for Patty's estate sale business, a coin collector with an encyclopedia like numismatic knowledge, a cheat at solitaire and could identify any bird he saw. But most of all, Chuck loved Patty and was the most wonderful father and grandfather. Thankfully he was able to meet his youngest grandchild, our sweet baby Violet, this past November and this brought immense happiness to him.
Dr. Bedard is survived by his wife of 57 years, Patricia Kuclo Bedard; children, Jennifer Gallagher (Bryan), Angela Siana (Paul), Sarah Baxter (David), Katie Bedard Dell, Benjamin C. Bedard (Michele) and Adam H. Bedard (Cindy). He is also survived by his grandchildren, Haley and Andrew Siana, Riley and Caitlin Baxter, Avery and Mason Dell, Charlie and Alex Bedard, Payton Foster, Wesley and Will Bates, and Elic and Violet Bedard and his siblings, beloved sister, Rosalie (Bedard) Gilbertson and younger brother, Dr. Larry Bedard (Jastell); as well as many nieces and nephews. Dr. Bedard was preceded in death by his parents and sister, Patsy Tiefel.
Memorial Mass, 10 a.m., Saturday, May 8, 2021, at St. Pius X Catholic Church, 3130 Morris Avenue. As an expression of sympathy and support in lieu of flowers, the family welcomes donations to the Athletic Department at Colorado State University Pueblo.
CSU Pueblo Foundation
c/o Dr. Charles Bedard Memorial
2200 Bonforte Blvd.
Pueblo, CO 81001
Online condolences, www.montgomerysteward.com
Services
Memorial Mass: May 8, 2021 10:00 am
St. Pius X Catholic Church
3130 Morris Avenue
Pueblo, CO 81008
719-542-1552

Add to My Calendar
America/New_York
2021-05-08 10:00:00
2021-05-08 10:00:00
Charles HenryBedardMemorial Mass
Memorial Mass
3130 Morris Avenue,Pueblo, CO 81008
Memories Timeline
Guestbook
Sign the Guestbook, Light a Candle